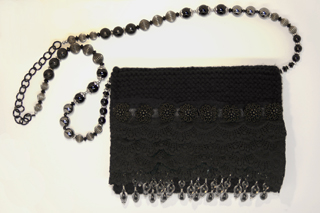 Although this bag has been sold, I can create one for you that will be in keeping with it's original design. However, no two designs are identical and every bag is original, and unique, and therefore won't be duplicated exactly. Please email me and we can talk about what you'd like to have that's similar to this design.
Crystal Lace measures 8"W X 7"H.
It is crafted of a soft black yarn. The embellishment on the top flap consists of four layers of soft black lace that are topped with black woven zinnia flowers with black beaded centers. Peaking out from below the lace are long hanging strands of black and translucent beads.
The interior of the bag is lined with
a black and silver patterned fabric and is trimmed with a matching black edging.The strap is 34" long. It is designed with
a multitude of black, silver and hematite beads. A black chain allows the purse to rest comfortably on the shoulder. In addition, the strap is removable, allowing the bag to be carried as a clutch.