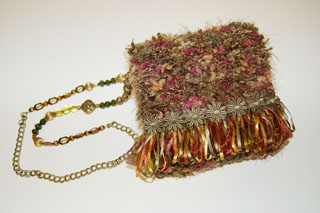 Forest Rose measures 8"W X 7"H.
It is crafted of various yarns, giving it an
extremely interesting texture, in colors
of green, rose, rust and beige. The fringe
on the top flap is a multi-colored
looped silk trim, topped with a forest
green braided trim. Additionally, on
the top flap are 7 muted green silk daisies .
The interior of the bag is beautifully lined
with a coordinating silk fabric, in deep
gold with rose and gold designs.
The strap is 42" long and is made with gold, black, and rust beads.
For additional information
about Forest Rose, please
email me. I'd love to hear from you!