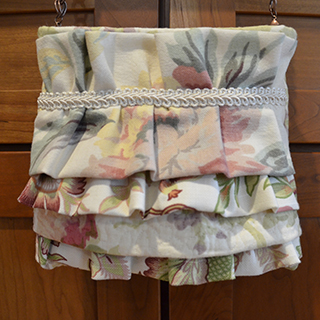 "Garden Party" measures 7 3/4"W x 7"H and is constructed both inside and out of woven cotton floral print in shades of rose, pink and green set upon an ivory background. The front of the bag is layered with soft ruffles in the same tones as the body and the inside of the bag. A woven trim in ivory brings out the neutral cream background in the cotton print. A removable deep copper chain drops the purse about 18" from the shoulder.
For additional information
about "Garden Party", please
email me. I'd love to hear from you!
Price: $125.00
This purse can be purchased at my online shop on Etsy.com. My purses are showcased on Etsy as well as this site so feel free to look at my line on my Esty Shop. Online purchases can only be made through my Etsy Shop.