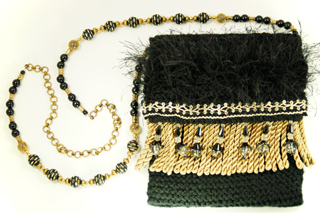 Golden Ebony measures 8" W X 9" High.
It is crafted of 2 different textured black
yarns, giving it an extremely interesting
texture. The fringe on the top flap is
multi-layered with a black braid and
beige loop.The fringe is a beige twisted
loop interspersed with beige and black
tear drop crystal beads.
The interior of the bag is beautifully
lined with a coordinating black patterned
fabric and trimmed in black braid.
The strap is 42" long and is made with gold, black, and rust beads.
For additional information
about Golden Ebony, please
email me. I'd love to hear from you!