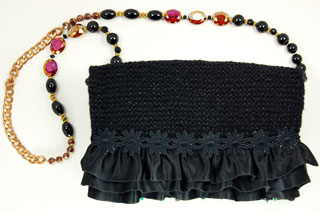 Iridescent Night measures 8"W X 7"H.
It is crafted of a soft black yarn with a hint of gold glimmer running throughout. The embellishment on the top flap is trimmed in a triple row of black satin ruffle that is topped with 8 embroidered black daisies. Below the triple row of black ruffle hang long strands of multi-colored iridescent beads.
The interior of the bag is lined with
a soft black fabric with accent colors to coordinate with the iridescent beads.
The strap is 34" long. It is designed with
a combination of black and multi-colored iridescent beads. A medium gold-colored chain allows the purse to rest comfortably on the shoulder. In addition, the strap is
removable, allowing the bag to be carried as a clutch.
For additional information
about Iridescent Night, please
email me. I'd love to hear from you!