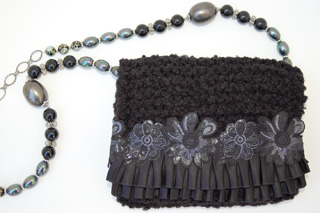 Midnight Flower measures 8"W X 7"H. It is created with a very soft nubby black yarn. The embellishment on the top flap is trimmed with a double row of black ruffle and topped with a black and silver floral applique.
In keeping with the blacks and silvers on the outside flap of the purse, the inside is lined with a beautiful black-on-black patterned fabric with accents of silver.
The strap is 32" long. It is designed with
a combination of silver, black and hematite beads. A silver chain allows the purse to rest comfortably on the shoulder. In addition, the strap is removable, allowing the bag to be carried as a clutch.
For additional information
about Midnight Flower, please
email me. I'd love to hear from you!