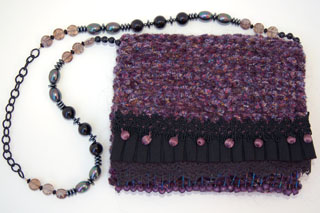 Mulberry Bauble measures 8.5"W X 8"H. In deep raspberry and black this purse is the perfect addition to a solid black outfit that asks for a beautifully rich color accent. It is created with a very soft purple chenille yarn that feels luscious to the touch. Scattered sparkles add a subtle brightness to this already gorgeous bag. The embellishment on the top flap consists of 5 different layers, starting with a row of deep, irridescent beads that dangle with a deep raspberry bead at the end. The following layer of black lace is perfectly topped with a pleated grosgrain ruffle. The addition of delicate fabric beads in deep raspberry are followed on top with a delicately feminine lace applique.
The inside is lined with a perfectly selected patterned fabric that has a black background and accents of sage green and lavender.
The strap is 32" long. It is comprised of a combination of black, hematite and rose glass beads. A black chain allows the purse to rest comfortably on the shoulder. In addition, the strap is removable, allowing the bag to be carried as a clutch.