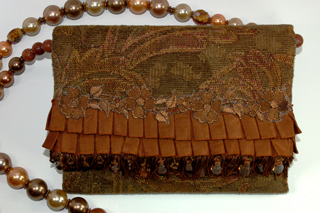 Ruffled Copper measures 7.5" W X 6" H. It is constructed of tapestry fabric in copper and brown tones and is adorned with a row of translucent copper beads, topped with row of copper fringe. Added to that is a double row of copper pleated satin ruffle which is finished with a copper flower applique. This bag is completely lined with a coordinating fabric. The strap is made with various glass beads, dotted with a few beautiful lampwork beads. A copper-toned chain rests comfortably on the shoulder. The strap is removable to allow the bag to be used as a clutch and the strap to be worn as a necklace!
For additional information
about Ruffled Copper, please
email me. I'd love to hear from you!