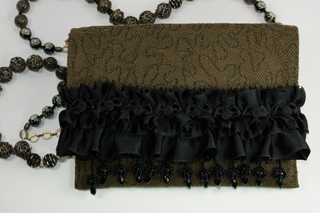 Ruffled Moss measures 8.5"W X 6.5"H.
Maybe not such an attractive name (Moss) for such a beautiful purse but it truly describes the color! It is constructed of a soft green fabric - like a chenille, with a loose "squiggly" pattern almost "etched" into the fabric surface. And although the fabric is soft, the bag is lined with a fairly structured interfacing that allows the purse to maintain it's shape. The flap is adorned with a row of black hanging beads that is topped with a black satin piquot gathered ruffle. Black miniature satin bows dot the center of the ruffled row.
The inside of the bag is fully lined with a deep green patterned fabric and is edged with a black woven trim.
The strap is about 40" long and is hand-beaded with marbelized glass beads, cloisenne influenced black beads, as well as various brass colored beads. A gold-tone chain rests comfortably on the shoulder.
In addition, the strap is removable so the purse can be carried as a clutch.