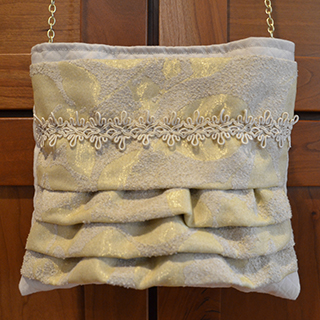 This purse is soft and feminine. The bag measures 8"W x 7 3/4"H. The body of the purse is a diamond patterned cream-colored cotton fabric and the lining is the same fabric. The front ruffle is a very pale yellow leaf pattern on a soft nubby textured fabric. There is a cream trim that spans the front width of the bag, just below the top. The bag has a 17 1/2" drop on a removable golden chain.
For additional information
about "Saffron Petals", please
email me. I'd love to hear from you!
Price: $125.00
This purse can be purchased at my online shop on Etsy.com. My purses are showcased on Etsy as well as this site so feel free to look at my line on my Esty Shop. Online purchases can only be made through my Etsy Shop.