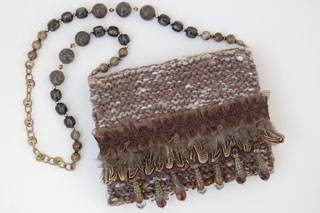 Taupe Plume measures 8"W X 6.25"H. This purse is knitted with two yarns giving it almost a tweed fabric appearance in taupes, grey and ivory. Flecks of gold are dispersed throughout the body of the bag. The flap is embellished with four layers, starting with a bottom layer of bronze-capped coffee and clear translucent beads. A feather row adds a touch of earthy color and coordinates beautifully with the top layer of bronze organza and satin ruffle.
The inside is lined with a matched print fabric that picks up the colors used throughout the bag.
The strap is 33" long. It is comprised of beads in varying shades of taupe, grey and tan. An antique gold chain allows the purse to rest comfortably on the shoulder. In addition, the strap is removable, allowing the bag to be carried as a clutch.
For additional information
about Taupe Plume, please
email me. I'd love to hear from you!