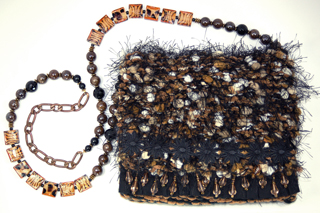 Tiger Eye Daisy measures 8"W X 7"H.
The body of the bag is crafted of two different yarns; a smooth black wool and a smooth camel colored suede-like yarn. The flap is fabricated with a black eyelash yarn and a very nubby, yet soft, camel, cream and black yarn. The edge of the flap is trimmed with a black pleated ruffle and edged with a strand of translucent gold tear drop beads. Finally, for an additional feminine touch, the flap is topped with a black daisy trim.

The interior of the bag is beautifully lined
with a black silk fabric that is trimmed
in black braiding.
The strap is 38" long and is made with black and brown beads, joined with square glass tiger-eye patterned beads. In addition, the strap is removable allowing the bag to be carried as a clutch.
For additional information
about Tiger Eye Daisy, please
email me. I'd love to hear from you!