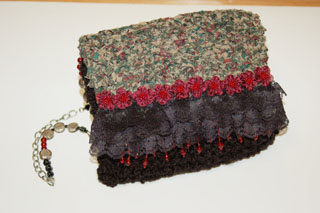 Vintage Rose measures 7.5"W X 6.5"H.
It is crafted of two different yarns. The body of the bag is knitted with a soft nubby
black yarn, while the flap is fabricated
with a khaki/red/cream cotton ribbon.
The top flap is trimmed in a double layer
of black lace that is topped with a row of
wine colored silk daisies. Beautiful
deep red strung beads hang from the
bottom of the flap.

The interior of the bag is beautifully lined
with a coordinating red silk fabric that
works beautifully with the black, khaki
and red colors in the bag.
The strap is 19" long and is made with black, silver and red beads, as well as chain. In addition, the strap is removable allowing the bag to be carried as a clutch.
For additional information
about Vintage Rose, please
email me. I'd love to hear from you!